quarantine queen
Maine may have spent the last two months or so at home, but she's as busy as ever taking on new challenges a day at a time.
As Maine navigates her way through the quarantine's uncertainty, she copes through redirecting her focus on bigger projects. From discovering a new love for online fashion to exploring exciting business ventures, and even shooting her own magazine cover at home—her new normal comprises of revamping the old, embracing the new, and preparing for big things ahead.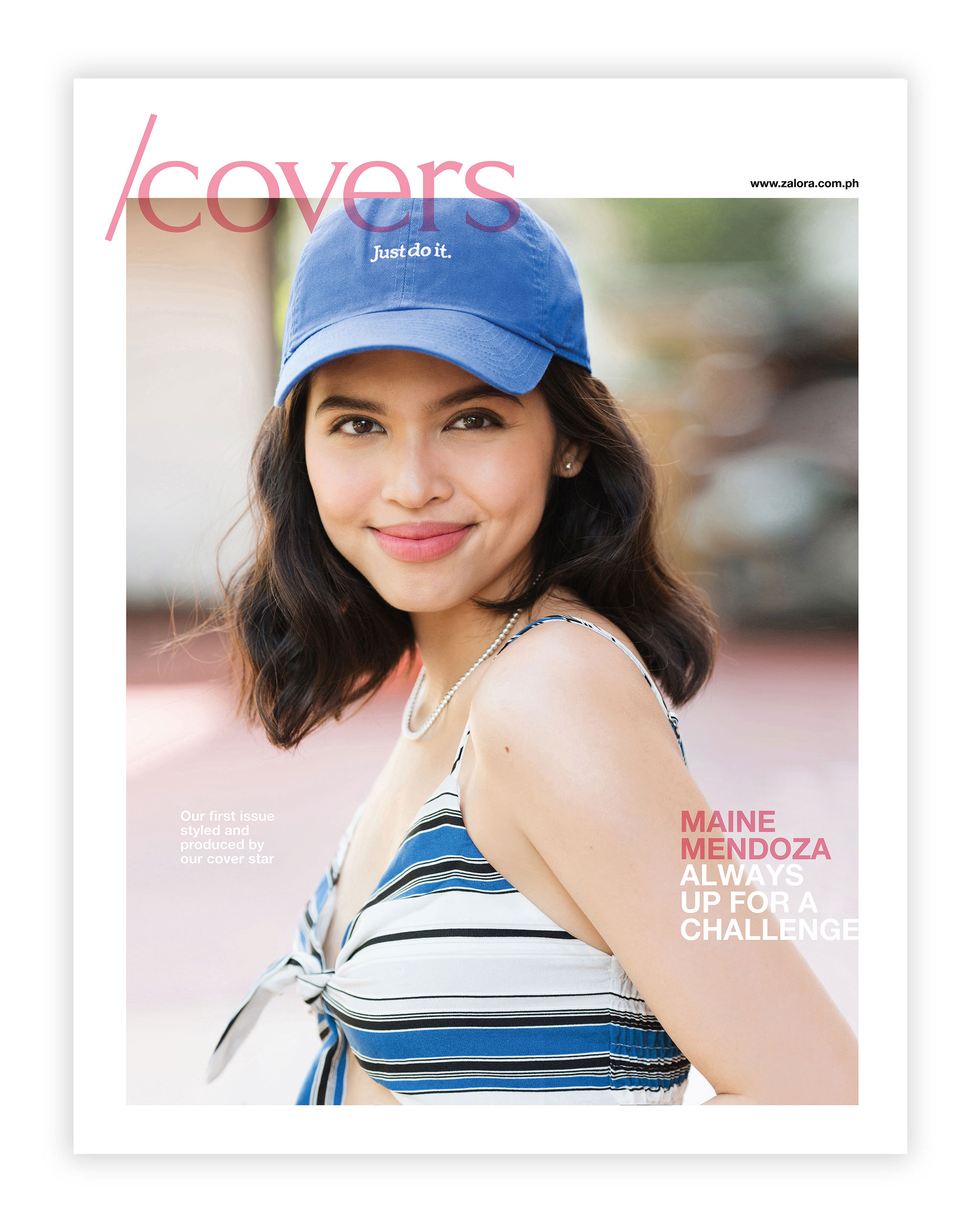 "I'm glad I got to express myself and my personal style without [having to get] anyone's approval."
A first for Maine
To say that this month's cover feature is special is an understatement, because not only did Maine Mendoza agree to give us a peek at her home (something not all celebrities are comfortable doing), but she also accepted the challenge to produce, style, and art direct the entire shoot herself. What is normally done by an entire entourage consisting of stylists, art directors, makeup artists, photo and video team, plus a whole lot of assistants; was achieved with flying colors by Maine and her humble team of four.
"It was a lot of work but it was fun! "
From ordering all the pieces on ZALORA, putting the looks together, getting her brother-in-law to shoot the feature, and art directing herself—Maine did it all. "It was a lot of work but it was fun! It was a first for me, I've never done something like this before," Maine shares. She loved the freedom of being able to mix and match outfits and use fashion to communicate her easy-going personality. "I'm glad I got to express myself and my personal style without [having to get] anyone's approval." The result? A feature packed with looks that are minimal and playful— a true reflection of the real, carefree, and uncomplicated Maine.
Laid-back Lady
If you ask Maine, she describes her personal style as extremely laid-back. You would normally see her sport the classic and trusty combo of a plain tee and distressed jeans. Putting a premium on how an outfit feels over fancy trends, our cover star stresses that she will always prefer "comfort over anything." True enough, she has mastered the art of keeping things simple while also making sure her outfits remain vibrant and fun.
"Comfort over anything."
These days, Maine prefers to dress up in relaxed yet put together clothes for her work meetings and IG lives. She loves wearing comfortable pieces that promote productivity and motivation in an at-home work setting. She's also currently into brogues and shares that she will always have a soft spot for easy-to-style pieces like sneakers, sandals, and espadrilles that match almost any type of outfit. Beauty-wise, she prefers to keep her makeup at a minimum by only using concealer for coverage and tint for some color.
Maine in Quarantine
Maine starts her day off with a swipe. The first thing she reaches for in the morning is her phone to check if any new packages have arrived. Since the quarantine started, Maine shares that online shopping has turned into her new favorite hobby and like all of us, she's addicted! She says her shopping escapades and "add-to-cart" moments keep her sane and allow her to have something to look forward to at home.
A typical day in Maine's new normal combines some hustle and necessary family time. She kickstarts her mornings by having a refreshing breakfast, usually with her niece and nephew. Now energized after a good meal and some much needed family bonding, she's ready to conquer the day and start her daily grind. This #girlboss then naturally gravitates to her favorite spot in the house—their formal dining area, which she has turned into her home office to work on her new business.
Just like the rest of us, Maine also has those days when she just wants to lounge around at home, simply bonding with the family, and catching up on some Netflix to unwind before bed. Her comfort food? Savory dishes like spicy ramen and chicken kabab, which according to her, she can up to three times a week.
Making moves
During the few months of staying at home, Maine has managed to turn idleness into productive pursuits. Currently, she's working really hard on her new business. "I'm planning on starting a future mini business so I've been working on researching and experimenting on a lot of stuff. It's still a secret, but it's something I'm very excited about. I've been doing a lot of experimenting and concoctions." Experimenting on concoctions? Sounds exciting already! Whatever it is, we're sure Maine is gearing up for something big and working hard to make this happen, as she always does with everything she commits to.
When asked if she had any travel plans after the quarantine period, she shared with us how Africa has always been her dream destination—a place she wishes to visit in maybe a couple of years. Maine also initially planned on celebrating her 25th birthday in Japan before the quarantine. With that no longer possible in this time, she finds comfort in simply looking forward to travel in the future. For now, she is focusing her energy on adjusting to the new normal and taking heart despite all the uncertainty.
Making big moves in such trying times, Maine pulls through with resilience and shows us how reaching for the stars — even shooting your very own magazine cover —can be done at home.
Production and Styling: Maine Mendoza
Hair and Makeup: Elvie Recalde
Photography and Videography: John Carlos Catalan
Layout and Art Direction: Eugene David
Words:Jana Bocobo