swim game strong
Nadine Lustre and Maja Salvador make waves in this month's cover as they talk body positivity, owning one's style, and redefining beauty standards — fully adorned in their selection of H&M Swim Essentials.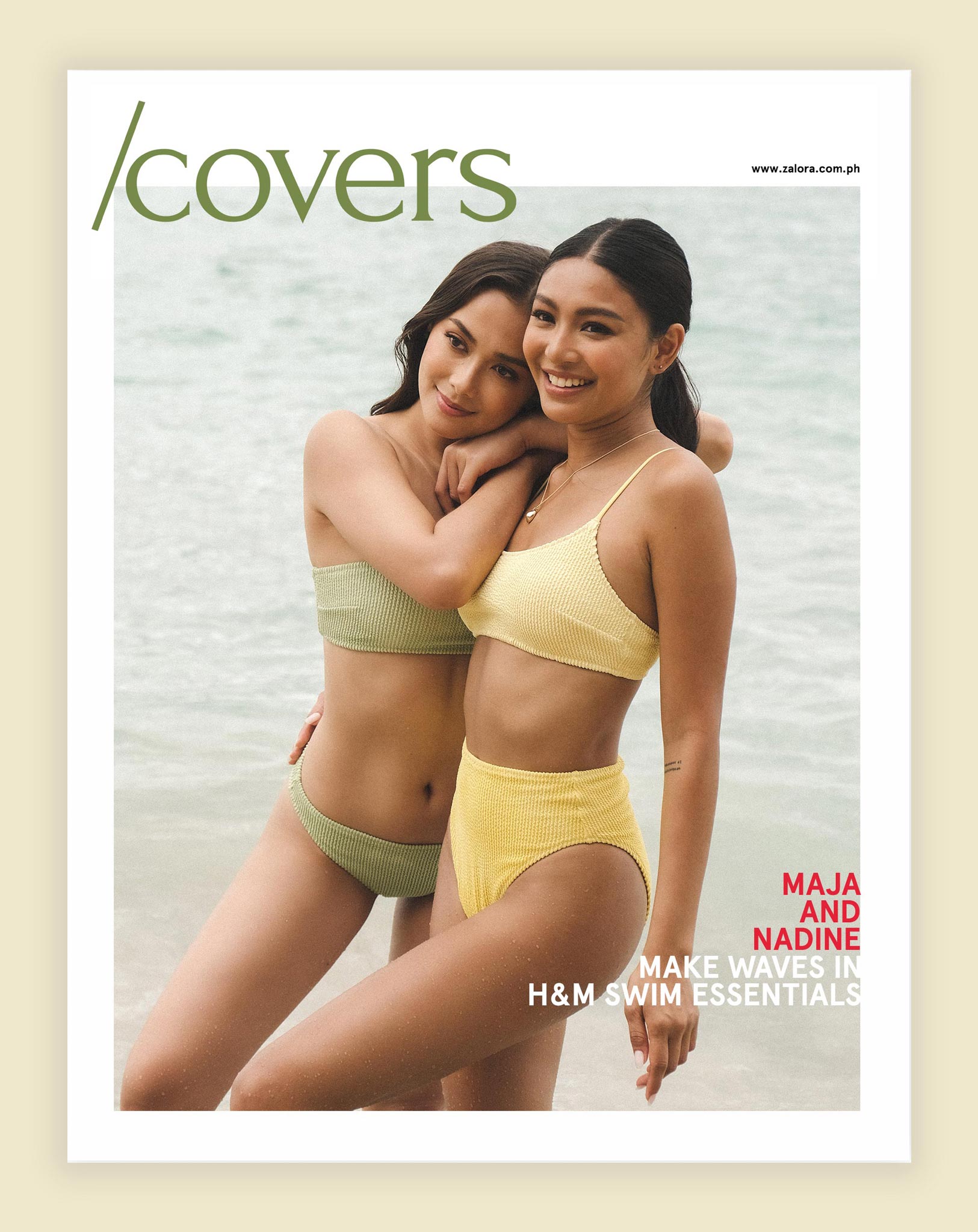 In a highly glamorized world, Nadine and Maja redefine beauty as confident outliers who prefer to celebrate their bare and truest selves. Amped up with fiery style, the faces of H&M's Swim Essentials give a whole new meaning to owning one's truth and living out unapologetic self love. Beyond being ambassadors of style, Nadine and Maja passionately take on the global brand's advocacy of body positivity and self empowerment. With a selection of pieces that encourage women to celebrate their bodies — anyone can now take a dip in this new wave of confidence.
An embodiment of her mental vision, Nadine Lustre's style comes to life through experiences and inspirations that surround her. The concept of style for Nadine is dynamic. She sees fashion as this grand cycle of living art — a mixture of innovative trends and reinvented comebacks. "Fashion keeps changing and we're all just in a cycle, trying to adapt to its current culture." In recounting her fashion throughout the years, change seems to be the only thing constant. Nadine describes her style as something very experimental, never one to remain stagnant. "I used to wear a lot of neutral colors before and my outfits had a '90s aesthetic vibe. But recently, I've been trying to play around with more colors." This new love for colors translates to her selection of H&M Swim Essentials with Maja. A feast for the eyes, the mixture of pastel colors and dainty prints are reminiscent of sweet and dream-like visuals. "It's pure eye-candy. That's how I would describe the selection." From powdery pinks to youthful yellows, Nadine's new take on color and confidence comes to life through the pieces.
Like her style icon Bella Hadid, Nadine isn't afraid to be inventive when it comes to fashion. Whether on the shores or in the city, Nadine is able to incorporate the swim pieces onto any outfit. Her tips for using swimwear in everyday get-ups is to layer the H&M bandeau bikini top with cropped denim jackets and highwaist pants for a forward street aesthetic. She also notes how coming to know herself has helped in the growth of her authentic style. "I feel more assured with my style now that's why I can mix it up. Before, I wasn't really sure with myself and I was still trying to find things that worked for me. It's really all about knowing what works for your body — and what doesn't." Now as an ambassador of a brand that embraces all types of skin colors, body sizes, and looks — she has found a platform where she can be her truest self and guide others to embrace themselves as well. This is what prompted her to select pieces in the collection that are flattering for the body and accessible for all. With prices as low as PHP299, the collection bridges affordability with cuts that flatter. Having an 'Inverted Triangle' figure, Nadine is keen on picking swimwear that balances out her shoulders and hips. She opts for more structured and well-lined items that have great quality and accentuate her curves. "My favorite piece from the collection is the padded triangle bikini top in dark green that I wear in one of the campaign photos. Its material feels amazing when worn and the cut makes me feel more confident with my body." The materials of the collection are not only high-quality but are also made of sustainable materials like recycled polyester, strengthening H&M's mission of giving people more options that are kind to the earth.
Maja Salvador beats to the rhythm of her own drum, in both style and in life. Like Nadine, she celebrates confidence through embracing the fullness of her authentic self. When talking about body positivity, the actress puts an emphasis on staying true to one's self. "Be yourself, that's where confidence comes from." As a brand ambassador for swim, we can't help but notice her amazing physique and her fearlessness in taking ownership of her body. For Maja, it's important to educate young girls on proper and healthy means of fitness. "Don't workout because you hate your body and its flaws — workout because you love your body and you want to take care of it." This perspective shows how the young star values health over external appearances, further proving why she's a perfect H&M ambassador for young women to be more body positive.
As the new face of a global brand, Maja feels extremely grateful to be given the opportunity to embody H&M's barer version of beauty for women. Her simple yet elegant style transcends onto the pieces in the collection — some with softer colors, and others with bolder prints. This is exactly how Maja styles herself, simple when needed, but chic and fashion-forward when the event calls for it. When asked which piece from the collection is her most abused, Maja gushes over the fact that she simply can't choose because she loves them all equally. From rocking pastel bikinis to flattering one-piece suits that go as low as P599, at the end of the day, the thread that ties Maja's style together is her personality. She makes sure to never lose her story in the mix of it all and dresses her body not to impress others… but to empower herself.
This collection is more than just a feast for the eyes, but also a love letter from Nadine and Maja to young women to embrace their bodies more. The swim ambassadors see the importance of teaching women to take up space in a world that usually tells them to recede or shrink. Through knowing one's self, valuing authenticity, and rocking everything with bonafide confidence — anyone can make waves in redefining what it means to be beautiful.
H&M Swim Essentials is now live on ZALORA
Images and video from H&M
Words: Jana Bocobo