1. How do I use a ZALORA coupon?
In the shopping cart, just fill in the coupon code in the 'coupon' section. Note that only one voucher can be used at a time: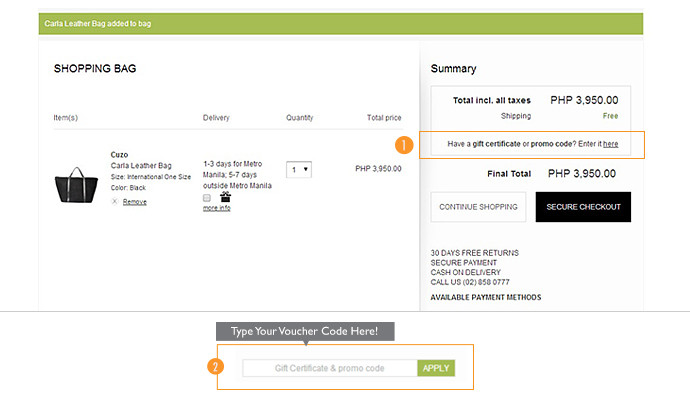 Know how to use the coupons!
How will I know the expiry dates for the coupons?
How many times can I use the same coupon?
Can I use more than one coupon for the same order?
Is there a minimum amount I have to spend?

General Terms & Conditions*
Physical Coupons
The expiry date is stated on the coupon itself
e-Coupons
The expiry date is stated on the email that the coupon code was sent in
Coupons are generated for one time use only, unless stated otherwise on the coupon's terms and conditions
Unfortunately, only one voucher can be used for each order
This information would be available on the coupon's Terms & Conditions at the back of the physical coupons and in the email of the e-coupon
*ZALORA PHILIPPINES reserves the right to change the terms and conditions or cancel any promotion at any time without notice
*Unless otherwise stated, promotional codes do not apply to Marketplace items
2. I am unable to use vouchers and discounts on certain brands and products. What's wrong?
We have some brands that are non-sale items as we have to adhere to our supplier's recommended price. The list of brands can be found here.
3. My discount code is not working properly and the discount is not affected at the checkout page. What can I do?
Unfortunately, this problem can sometimes occur due to voucher restrictions or IT-issues. In any case, please, email our customer service team at customer@ph.zalora.com, or drop us a call at (02) 858 0777, so we can solve the problem.
4. What is a gift card?
Send the gift of shopping with a ZALORA Gift Card! It's a great gift for birthdays, fresh grads, newlyweds or any occasion.

The ZALORA Gift Card lets you shop for anything at ZALORA.com.ph -- 24 hours a day, 7 days a week without leaving the comfort of your own home. Shop for clothes, shoes and fashion accessories! ZALORA Gift Cards come in various denominations: PHP 1,000.00, PHP 2,000.00 and PHP 5,000.00.