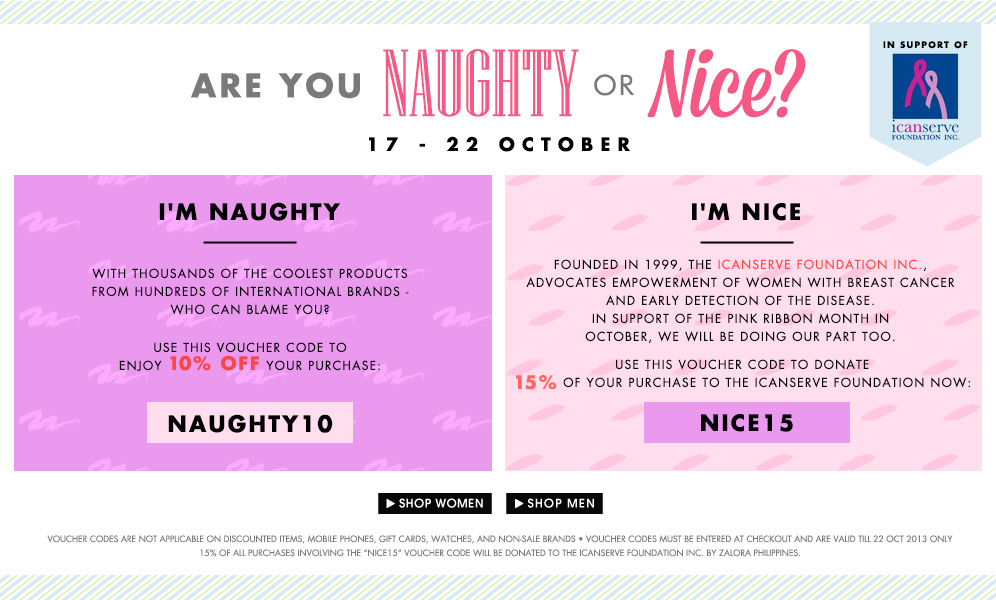 Are You Naughty or Nice? You have a choice at Zalora
The month of October has been designated as breast cancer awareness month. For the last few years, we've seen various campaigns come up on social media. These ads and campaigns are intended not only at promoting awareness on breast cancer among women but also to push for funding to support breast cancer research and of course, towards finding a cure to this dreaded disease. As we all know, breast cancer is still one of the leading causes of mortality among women all over the world. So far, early detection is the only one deterrent.
Zalora Joins the Fight Against Breast Cancer
Zalora Philippines joins this year's fight against breast cancer awareness with a special naughty or nice promotion. It may sound like Santa Claus' Christmas list, but it is actually a page that allows a shopper to use a 10% discount on special items for himself or herself (naughty) or donate the equivalent of a 15% discount to the I Can Serve Foundation (nice). The promo period is from October 17th until October 22 and proceeds will go to the said foundation. For those who do not know, the I Can Serve foundation has been in existence since 1999 and has spear headed countless activities on breast cancer awareness. One of the most memorable campaigns include the Pink Ribbon movement which became synonymous to breast cancer awareness.
Shopping for a Cause
This year though, Zalora Philippines is giving netizens a chance to actively participate in breast cancer awareness activities. The Naughty or Nice campaign will run for a whole week and is backed by Zalora's most popular brands and items. Choose from thousands of products from the best and most popular brands and items. You've got absolutely nothing to lose because you get at least 10% discount which you can enjoy for yourself. If your choose the Nice option, you can rest assured that you're giving a significant amount from your shopping to a legitimate breast cancer awareness or research campaign. The
donation
you make today may one day save your life or that of a loved one or friend.