new necessity
Anne Curtis-Smith and activewear brand Recess, pioneer a new wave of loungewear with latest collection, FLEXWEAR — now on ZALORA.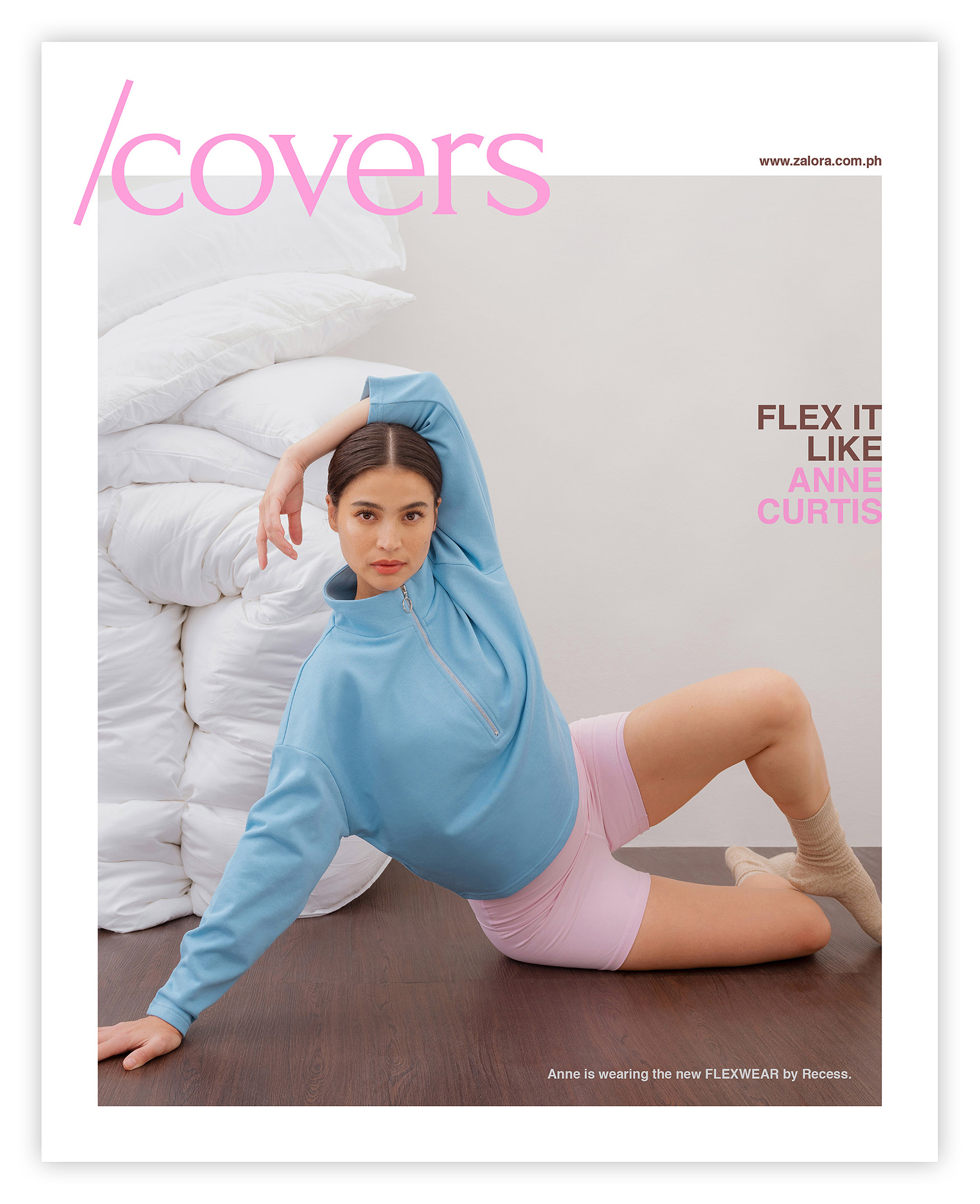 As the world navigates the changes of its greatest reset yet, Anne Curtis-Smith reflects on what's staying, what's leaving, and what we can do to adapt. Ready to make big moves with her activewear line, Recess, the multimedia star introduces a new collection under the brand's fast-growing assortment.
The world is settling into a new normal and Recess is here to uncomplicate the transition. Our work-from-home setup has introduced a new hybrid way of living where the lines between work, lounge, and play now seem to intersect more than ever. Enter Recess' FLEXWEAR Collection. Anne shares the collection was born out of necessity to cater to the community's current needs. "FLEXWEAR is our newest collection of modular active-to-lounge sets that are buildable to your day, customizable to your needs, and adaptable to your daily activities (and inactivities). It's basically the 'new normal' uniform!"
More than just a brand, Anne has co-founded a movement that places self-care & wellness at the center of the conversation. FLEXWEAR stays true to the Recess manifesto of empowering all types of movement. From the peaks of productivity to the welcomed quiet of rest, the collection fits any movement you're in the mood for. When asked which pieces she loved most from the collection, she mentioned her current obsessions. "I absolutely love our Comfort Zone pieces and our Ladies Who Lounge bras. I still have to find it in me to start working out so for now, these pieces are perfect." Circling back to Recess' goal of eliminating all pressures from fitness, Anne herself has been taking the time to embrace rest, reminding everyone that it's okay to move at your own pace.
As it turns out, there's a science behind the collection's stunning visuals. "We picked beautiful vibrant colors to spark positivity. They're colors that feel celebratory and joyful, which is something we could all use a little more of in these times." Apart from the collection's aesthetics, Flexwear promises top-tier clothing technology. The recess team creates with the consumer's comfort in mind. "Our loungewear comes in 100% cotton terry fabric. It's so soft and wearable all day." Their fabrics give substantial coverage but are lightweight and extremely breathable - perfect for the Philippine weather! People have the option of picking between the soft material of their Do Everything fabric and the lightweight, sculpting, and sweat-wicking material of their Personal Best fabric. This combo of style and comfort allow for Recess pieces to bring out the best versions of its girls.
"I love the Recess community. It's so nice to see different women incorporate our pieces to their own unique lifestyle and personal styles."
Since its official launch last year, Recess has met so much growth at hyperspeed. From workout gear, recessories, and now loungewear - the brand seems to possess an uncapped stream of innovative releases and it's all thanks to the community. "I love the Recess community. I love all the organic content we get from them when they receive their purchases. It's so nice to see different women incorporate our pieces to their own unique lifestyle and personal styles." Anne's biggest takeaway from co-founding this brand is learning the importance of listening to the needs and wants of the women it was made for. "There's nothing more fulfilling than when you see and hear how happy they are with each collection we release." A brand created by women and for women ​​ — Recess stands out because it doesn't dictate how girls should move, act, or dress. Instead, it adapts to the very real situations of women today. Together with Belle Daza, Paulina Ortega, and Roxanne Farillas, Anne is changing the game for athleisure wear by creating an avenue for women to move whichever way they want.
For Anne, style is about looking & feeling your best — sans the unnecessary fuss of succumbing to fleeting trends. "Style has always been about what you're most comfortable in and what makes you feel good!" The actress admits that she doesn't have a set style and simply wears whatever matches her mood. "I could be feeling grunge one day, a classic LBD the next, and of course just in the mood to chill in activewear all day long." Motherhood has certainly affected the way she dresses and influenced her to prioritize comfort over anything. Anne sees style as a fluid concept, one that changes and grows with the person overtime. And this is why it's so important for her to develop clothes for women that adapt rather than restrict, which is exactly what Flexwear aims to do.
"Enjoy every little moment you have with your little ones because what they say is true - the days are long but the years are fast. So cherish every moment."
Motherhood is perhaps Anne's greatest reset yet. It put so many things into perspective for the actress. After welcoming her baby girl, Dahlia, into the world, Anne's priorities immediately changed. Family was placed at the forefront of all her endeavors. These days you'll find her playing with Dahlia and watching TV shows with husband Erwan. "Taking care of Dahlia is my non-stop workout but I'll probably dive back into fitness and start with yoga or pilates soon." When asked for what advice she'd give to young moms out there, Anne was direct and heartfelt in her words. "Enjoy every little moment you have with your little ones because what they say is true - the days are long but the years are fast. So cherish every moment."
Through these transitions, Recess reminds us to move with care for ourselves. We need to remember that it is our bodies getting us through this pandemic, so it's alright to let it rest. Fitness is not about reaching set standards, but enacting a healthy state of physical and mental wellness. Whether you decide to get active or simply take this time to regroup — your body has already achieved its own wins. Know that there is power in burning through your energy in any way you please.
Photography by: Shaira Luna
Creative Direction by: Eugene David
Makeup by: Robbie Piñera
Hair by: Raymond Santiago
Styling by: Randz Manucom
Set Design by: AdSet Prod
Video by: Alivve
Written by: Jana Bocobo
Produced by: Bea Jocom