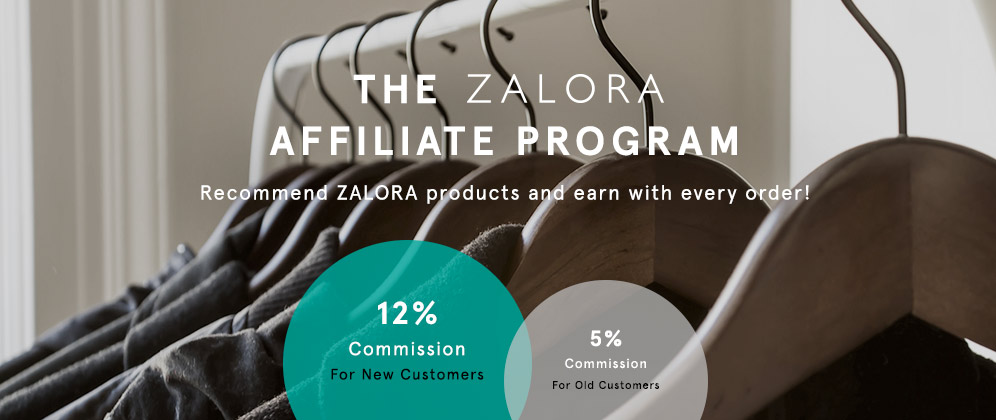 Commissions
Good payout of
up to 12%

Individual Solutions
Customized creatives available

Track Performance
Get access to a personalised
dashboard and monitor
your performance

Support
Quick and personal
support from the ZALORA
Affiliate Team
EARN HIGH COMMISSIONS WITH ASIA'S LEADING
ONLINE FASHION DESTINATION
THE ZALORA AFFILIATE PROGRAM
In this day and age, almost anything can go digital and shopping isn't an exemption. Both the buyers and sellers have changed through time and now realize the value of availing services online and conducting business through e-commerce. As one of the country's leading shopping sites, ZALORA is not only a go-to for digital shoppers but also an avenue for modern-day entrepreneurs to take advantage of the online community. If you're selling items on the Internet and would like to boost your site, a partnership with us can give you amazing returns such as commissions and added exposure to your site.
LET'S BE PARTNERS
The merit of working in and with online shopping sites like ZALORA is that you, as a seller, get to benefit more than you can imagine. The ZALORA Affiliate Program bridges e-commerce participants by providing a platform that allows sellers to become publishers and advertise their site through a selection of product information, advertising media and special promotions. As a publisher, you can integrate a banner on your site, which allows a buyer to click on it and they're immediately directed to the ZALORA site. For everyone who finds interest and clicks on the advertising media in your site, you get to earn 12% commission for purchases made by every new customer and 5% commission for old or returning customers.
SHOPPING AND EARNING MADE EASY
Learn more about e-commerce and online shopping when you explore the advantages that await you at ZALORA. Partnering with us will give you the opportunity to learn the tricks of the trade of the business. Earning money gets easier once you've decided on becoming a partner through the ZALORA Affiliate Program. You also make it easier for avid online shoppers to connect to ZALORA and in that way, give them access to perks like cash on delivery, free shipping over P995 and 30 days free returns. Aside from boosting your site, you give shoppers the chance to look through tons of international ad local brands available in ZALORA. Give your website exposure and join in this win-win opportunity now! If you're interested in the ZALORA affiliate program or you have further questions, ideas and suggestions, don't hesitate to contact us at affiliate@ph.zalora.com.