REACH OUR LARGE
CUSTOMER BASE

PERSONALIZED SHOP
Choose your own banners
and set your own prices

INTUITIVE SELLER CENTER
Control pricing, create content &
monitor performance

TAKE YOUR BUSINESS ONLINE
More than 8 in 10 consumers have
made a purchase over the internet

COMMUNITY ENGAGEMENT
& MARKETING EXPOSURE

MULTIPLE SECURE PAYMENT
METHODS AVAILABLE

FAST AND RELIABLE
DELIVERY SERVICES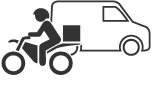 LEARN FROM OUR FASHION
EXPERTS AND DATA SCIENTISTS

IT JUST TAKES 4 SIMPLE STEPS:

1. SET
YOUR SHOPFRONT
Choose your own banners
and set your own prices

2. TAKE
A PHOTO
Snap a photo of your
item in good lighting

3. UPLOAD
YOUR ITEM
Set your price, stock level &
write a compelling description

4. RECEIVE $$$
& SHIP YOUR ORDERS
You'll be notified when your item
is sold. Pack your item and send
it out!
LEAVE YOUR DETAILS TO RECEIVE YOUR STARTER PACKAGE.
We will get in touch with you within 7 days.
ZALORA PH Marketplace
Join the Zalora PH Marketplace Today!
Wouldn't it be wonderful to be part of Zalora PH? The fastest growing online shopping portal in the country is opening its doors to small businesses and budding entrepreneurs. Here's your chance for your creations to be noticed and bought by hundreds of thousands of shoppers all over the country. Whether you're into creating hand-made jewelry, novelty hair accessories or children's clothes, there's a niche waiting for you. You don't have to spend thousands in advertising and building your brand, you'll get the traffic and customers you need just by being part of the Zalora PH marketplace.
What You Stand to Gain by Partnering With Us:
Reach our Large Customer Base
Create your own shop front and set your own prices
Control pricing, create unique content, and monitor how your items are moving
Take Your Business Online - 8 of 10 consumers now purchase items over the internet
Community Engagement and Marketing Exposure
Multiple Secure Transaction Methods Available
Fast and Reliable Delivery Services
Learn from Our Fashion Experts and Data Scientists
How the Marketplace Works:
The Zalora PH Marketplace is a unique opportunity to showcase your own arts and crafts or other products you want to sell. If you're a small business looking for the right platform to take off, this can be your golden opportunity to break into the retail industry.
Choose your own banners and set your own prices
Take photos of your products and Upload them
Create a product description and set your price
We'll notify you when your products are sold
Contact US Now and Start Earning!