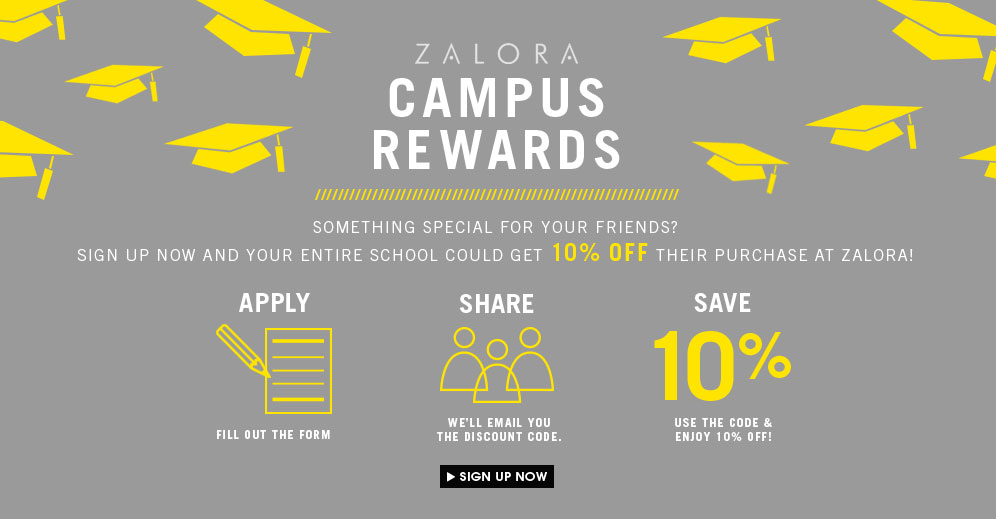 Treat Students to a 10 Percent Discount from Zalora PH!
Hardworking and dedicated students deserve a little fashion break. Stretch the power of their allowance by giving them a 10 percent discount whenever they shop online at Zalora PH! The campus rewards program is a quick and easy way to reward students for doing well in school. Anyone can sign up on your class or school's behalf! All one needs to do is register at http://www.zalora.com.ph/campus-rewards. Just complete the registration process and you will be sent a discount code by email. This code can then be used by students, teachers, school staff and so on. The more items you buy online, the bigger discounts you will get. To maximize your discounts, you can also sign up to receive the Zalora PH newsletter. You will be given an extra PHP250 off on your purchase.
Enjoy shopping with friends!
Want to be the most fashionable group of friends on campus? shop online at Zalora PH and use the 10 percent discount from your Campus rewards. Additionally, you can earn more shopping money by inviting your other friends to sign up. The invite a friend program gives a PHP500 shopping voucher to the friend you invited and another PHP500 to you when his or her purchase is confirmed. There is no limit to the number of friends you can invite and the amount of shopping credit that you can earn. This is a great way to save on item that you plan to buy or get as gifts for your friends and family.
School Incentives
The Zalora Campus rewards program is a great way for school administrators to give their students and teachers additional incentives. You can also tie up with Zalora for other events and activities in your school. The possibilities and rewards are truly endless. Visit the Zalora PH site today!