summer state of mind
On this month's cover, sisters Chi & Gabs Gibbs talk about what keeps them busy during this unusual summer while on ECQ, all decked out in their favorite pieces from the Neon IslandXZALORA exclusive collection.
Everyday has been a different kind of adventure as we all try to keep up with the new normal while fighting our way through these tough times. But when you have a creative mind, staying at home doesn't hinder you from creating. In fact, for our favorite creative sister duo, home has become a breeding ground for art in all its different shapes and forms, to come to life.
This 2020, summer has been a state of mind. As we all do our part by staying home during what was supposed to be beach season, let Chi and Gabs share tips on how they've coped and adjusted to this new normal. Read on to see how they've been keeping themselves safe and productive while doing their part to help out from home, plus everything fashion and beauty, including some tea on the exclusive Neon Island x ZALORA collection.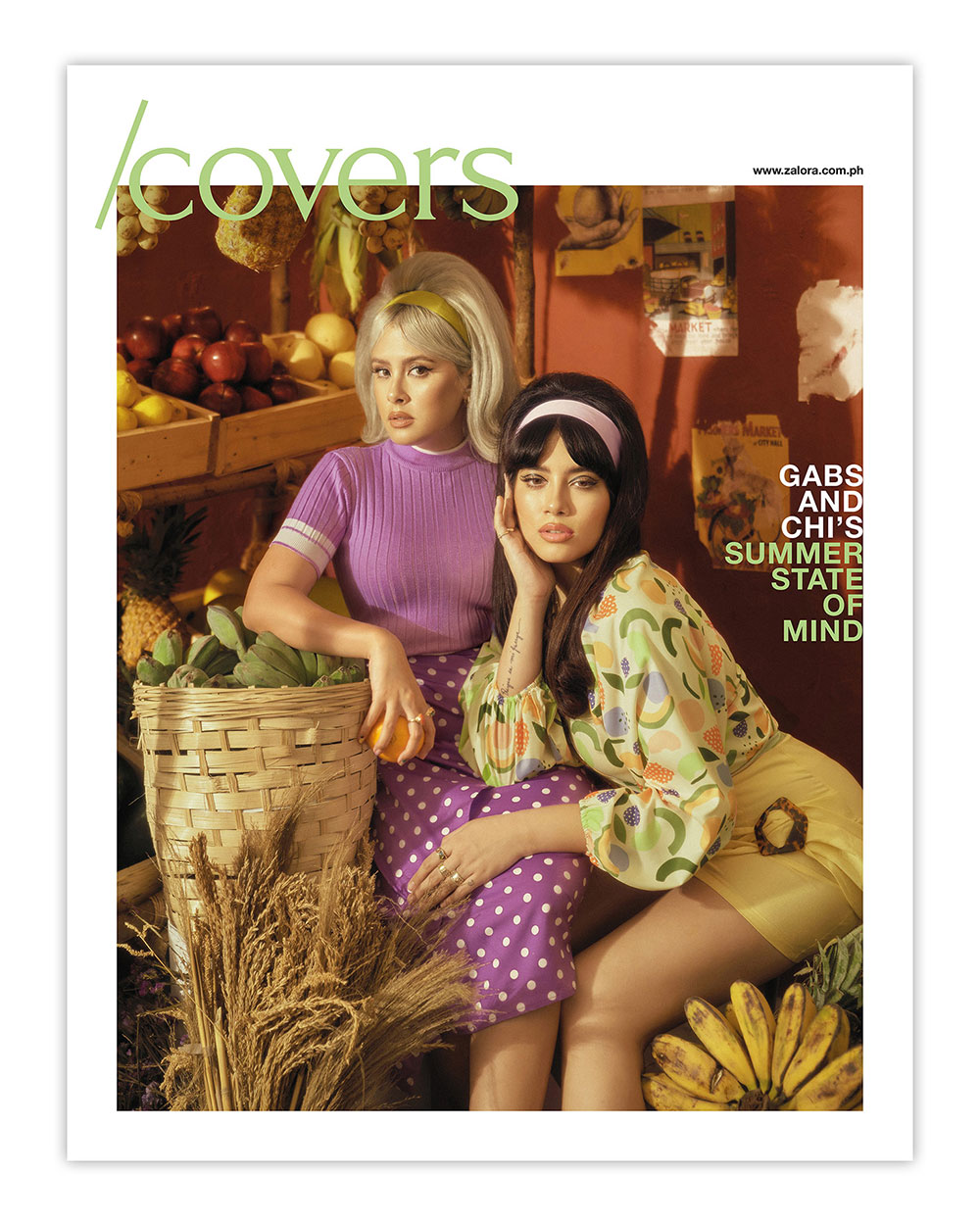 Life in Quarantine
How have you guys been since the ECQ (Enhanced Community Quarantine) started?
Chi: We've been in Manila, safely at home!
What have you been doing to keep yourselves productive at home?
Chi: We try to stay creative as possible! We're catching up on books and series like everyone else. Together, we've been doing a lot of painting & Tik Tok videos. Hahaha. Right now, Gabs is trying to make filters on Instagram, while I work on jewelry crafts. We've also been busy using the Neon Island account as a platform to support COVID-19 efforts of PAGASA.ph and ZALORA's e-donation drive initiative in partnership with the Philippine Red Cross, GMA Kapuso Foundation, Caritas Manila, World Vision, and Hybrid Social Solutions.
What's your Work from Home situation like?
Chi: We still try to follow our normal routine before going to work—maybe just a bit more chill and toned down version of it with more cats and more snacks. Hehe.
Any quarantine tips to battle cabin fever?
Gabs: Chi and I usually don't get cabin fever when we're stuck together because we're all the friends we've got. Hahaha just kidding. But we love looking at DIY projects we can do at home—something we wouldn't normally have the time for
What are you looking forward to the most once the quarantine is over?
Traveling and eating out!!
Sister Goals
HWho inspired you to be in the businesses you're in now?
Chi: We grew up with parents that work in the entertainment industry, so we were exposed to the arts at a very young age. I think my love of fashion came from old Hollywood movies.
Gabs: I agree. My mom has always done her own makeup in shows & in movies. This definitely inspired me growing up!
How would you each describe your fashion styles?
Chi: Printastic, retro, colorful, lola chic.
Gabs: Moody, androgynous, retro, french
In what ways are your styles different from each other? And in what ways are they similar?
Gabs: I base my looks on my makeup, while Chi bases her looks on color.
Chi: We both have a love for vintage!
What's your favorite thing about your sister's style?
Chi: She has a lot of "borrowed from the boys pieces" I wanna steal.
Gabs: She has a really cool shoe collection I could never borrow!
Do you guys share clothes? Do you guys fight about clothes?
Chi: Definitely! We steal from each other all the time!
Are there pieces in your closets that are declared off-limits to one another?
Gabs: We have a rule where you can't borrow something if the owner hasn't worn it yet.
Into Fashion
What were you most excited about in this collaboration with ZALORA?
Chi: It's such an honor to be working with a brand we admire so much! Was so excited for everyone to see the huge collection.
Walk us through the collection, what was your inspiration while conceptualizing this?
Chi: An Italian summer in the '60s!
What are your favorite pieces from the collection?
Chi: I have a special spot for the Positano suit and the Verona maxi dress!
Let's talk about Neon Island for a bit. What makes Neon Island unique?
Chi: All our prints are hand drawn by either me or Aira. So, they're one of a kind and made with a lot of love!
What's the most exciting part about owning your own brand?
Chi: Having full creative control! Also seeing how people style or wear the collection once it's released. That feeling never gets old.
What was the biggest challenge you encountered when you first started Neon Island?
Chi: Budget constraints for sure! Aira and I started with our own savings.
Any advice/tips to those who dream of starting their own brand?
Chi: Always know your WHYs. I believe for any venture to succeed, you have to have purpose behind your passion.
Boss in Beauty
Growing up, have you always been into makeup?
Gabs: My parents have always encouraged us to express ourselves through art. Painting, drawing was where I really started before I transitioned into makeup.
What made you fall in love with makeup?
Gabs: Makeup was also a security blanket for me, especially when I was in high school. I used to have really bad acne and makeup just made me feel more comfortable and confident in my own skin. I then knew the power of makeup.
Any favorite brands?
Gabs: My first ever foundation, RMK, deserves a shout out! Haha. It really helped with my acne and it didn't irritate my skin. I also love Tom Ford, Nars, Morphe, and Sunnies Face—of course!
Can you share with us your skincare routine?
Gabs: First, I remove my makeup with my Bobbi Brown Foam Makeup Remover—like anyone should at the end of the day! Next, I wash my face with Proactiv. Then I always, always use the Mario Badescu Vitamin C Oil. And lastly, I apply my Lamer eye cream.
You have flawless skin, any tips you can share with our readers?
Gabs: Always wash your face or pat to remove excess oil and dirt during the day!
Do you watch YouTube tutorials?
Gabs: Of course! I love watching Vogue beauty secrets on YouTube. Also, Alexa Chung's new channel is amazing.
Current favorite beauty trend?
Gabs:Natural fluffy brows.
Favorite makeup artist?
If you had the chance to do the makeup of anyone, who would it be?
Gabs:Vanessa Hudgens. I don't know, she just has the perfect face for makeup. Hahaha!
Fashion Facts
Favorite fashion investment?
Chi: Designer shoes
Gabs: Prada bag
Worst fashion purchase so far?
Chi: Fedora hat
Gabs: Colored skinny jeans
Current fashion trend you wish could go away?
Chi: Prairie anything
Gabs: Baby doll dresses
Who are your fashion icons?
Chi: DVF, Cher, Giovanna Engelbert
Gabs: Caroline de Maigret, Joan Jett, Rihanna
What does your lazy day outfit look like?
Chi: Tee + Midi skirt + Sneakers
Gabs: Jeans + Sweater + Chunky Sandals
What does a date outfit look like?
Chi: Slip dress + Blazer + Heels
Gabs: Cropped Cardi + High-Waist Flared Jeans + Baby Heels
The first thing you pack in your bag when travelling?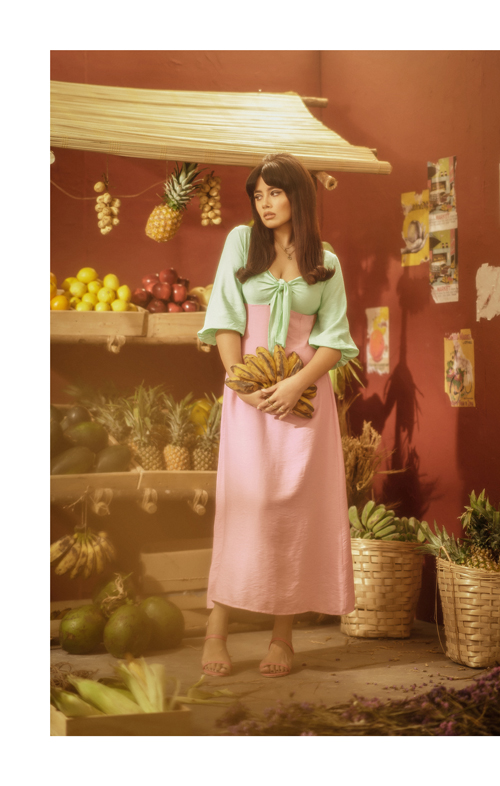 Shop the look >
*This feature was produced before the announcement of the Enhanced Community Quarantine.
Photography: BJ Pascual
Creative Direction: Eugene David
Styling: Loris Pena
Makeup: Mac Igarta
Hair: Mark Familara
Words: Maan Fernandez
Set Design: AdSet Prod