recess is in session
Uncover the beauty of the break with Isabelle Daza as she discusses brainchild Recess, an activewear line that empowers movement for both rest & play — launching first on ZALORA.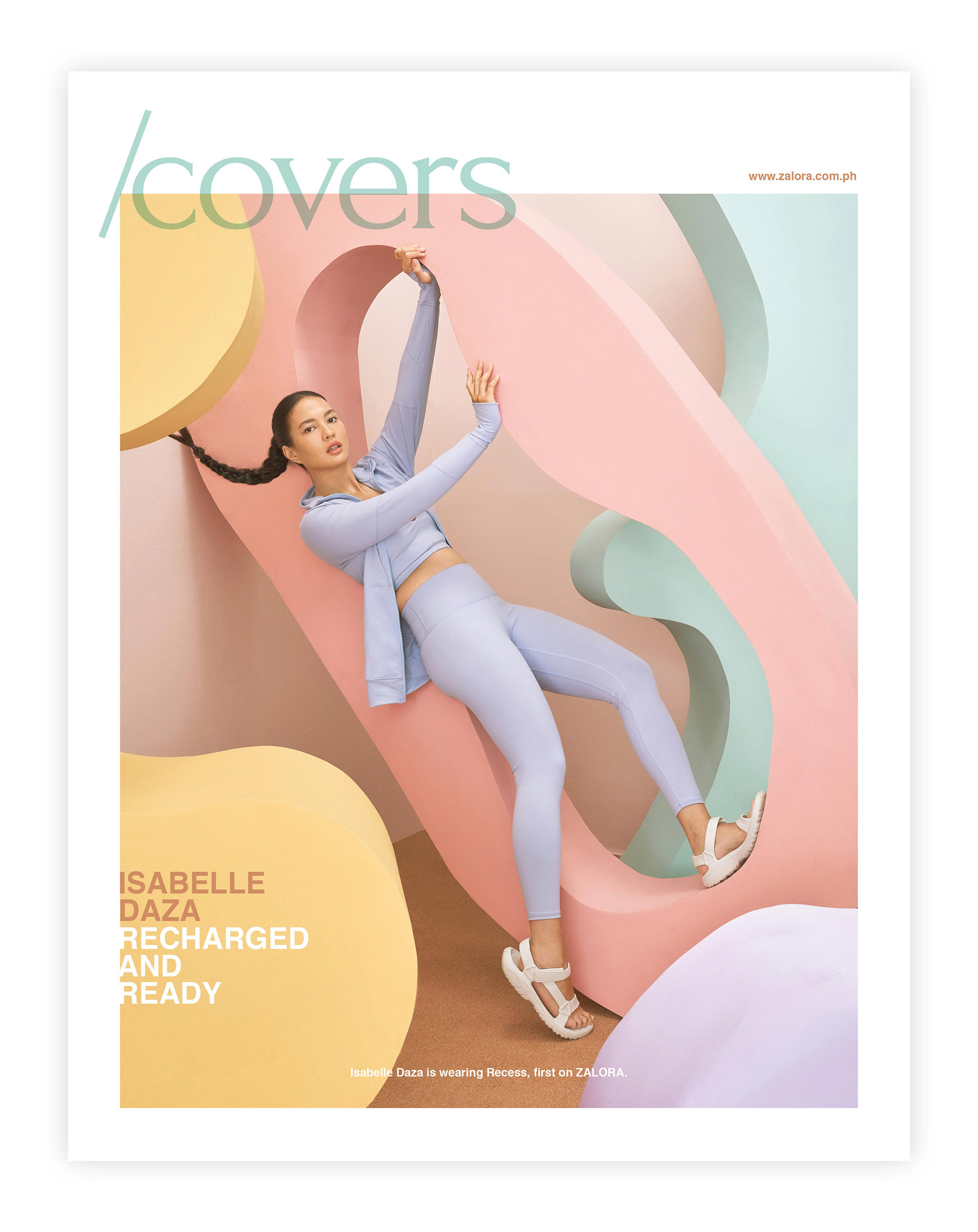 "We wanna say it's okay to take a moment to recharge. Recess is what you need when you need to be good to you."
Amidst the sudden shifts and uncertainness surrounding the year — Belle Daza reminds us that there is power in the pause. Inspired by the mission of providing a safe space for women to find solace and retreat, Belle teams up with Anne Curtis-Smith, Paulina Ortega, and Roxanne Farillas to launch an activewear line that erases all pressures from fitness. A line that speaks to the everyday woman, Recess empowers girls to move the way they want to. Whether it would be through dominating in high performance or simply receding back in meditation and rest — the brand aims to make things uncomplicated. "We wanna say it's okay to take a moment to recharge. Recess is what you need when you need to be good to you."
Recalling how the idea for Recess came about, Belle and Anne saw a gap they wanted to fill. Fitness is often treated as a full-on athletic activity that requires women to give their 100% on a 24/7 basis, but what about rest, t hey asked. The mom entrepreneurs wanted to further explore that idea — thus, Recess' conception. "We're not here to set records. In fact, we're here to give your full potential a break. We know you'll get more done when you stop to take a breath. " A hybrid of work and play's best parts, Recess starts a conversation in the importance of recharging through life's "in-betweens".
Belle has always been the type of woman who advocates for authenticity over perfection, and that belief trickles down to their brand's manifesto that not every moment has to be spent in hyper-productivity. Recess recognizes real situations and adjusts to different needs. With thoroughly designed products, the pieces are made to adapt to many activities like running, yoga, grocery shopping, or lounging at home. "We have multiple fabrications which we tried and tested for at least 12 months." Their "Personal Best" material sports a lightweight and body-sculpting feel with medium compression for more active users. The launch collection also includes their "Do Everything" material which can be worn on any occasion. Its super soft, cottony, and breathable fabric seamlessly transitions from lounge to activewear, perfect for both sporty moments and do-nothing moods! The thoughtfulness of the brand and its ability to listen to what a woman needs is what sets Recess apart — elevating it as more than just a clothing line, but a movement that champions potential in all phases.
"Style for me is how comfortable you are expressing your authentic self. Not only in fashion, but in your way of life."
Recess' creative aesthetic takes from Belle's love for all things colorful. Its pleasing hues & flattering silhouettes tie the whole concept of comfort & play together. "Style for me is how comfortable you are expressing your authentic self. Not only in fashion, but in your way of life." Her looks often consist of blocked monochrome colors and comfortable co-ords. As for her go-to gym outfits, you'll normally find Belle sweating it out in leggings, bra, and a cropped tee.
One of Recess' loudest advocacies is inclusivity. The women behind the brand believe that all types of female figures should be celebrated. This led them to develop an activewear line that caters to all body types, with sizing that ranges from XS to XXL. Staying true to their philosophy of reducing any kind of unnecessary pressure, Recess' size chart runs in numbers so as not to intimidate with words that carry stigma. "As women, most often we equate ourselves to our size so we immediately wanted to take that pressure out. We want to approach things from a more neutral point of view including our body. " Inclusivity also means having a price point that is accessible and affordable for all. Belle believes that the Recess woman is someone who shouldn't have to spend a lot on quality activewear. The brand also advocates for sustainability and makes it a priority to have as little of an impact on the environment as possible. Recess recognizes the importance of caring for the space around us, as these spaces are also our avenues for movement.
If this year has taught us anything, it's to be more compassionate with others as well as ourselves. To find peace in the moments where time stops — and to not always live so fast. Rest is more than just a pause, but also a kick-starter that recharges us to get ready for what's to come.
Recess is now available on ZALORA.
Photography:BJ Pascual
Art Direction: Eugene David
Styling: Jolo Bartolo
Makeup: Noel Inocencio
Hair:Suyen Salazar
Set Design: Princess Barretto
Words:Jana Bocobo
Videography:Alivve
Produced by:Bea Jocom