a league of his own
If you think you already know everything about James Reid, think again.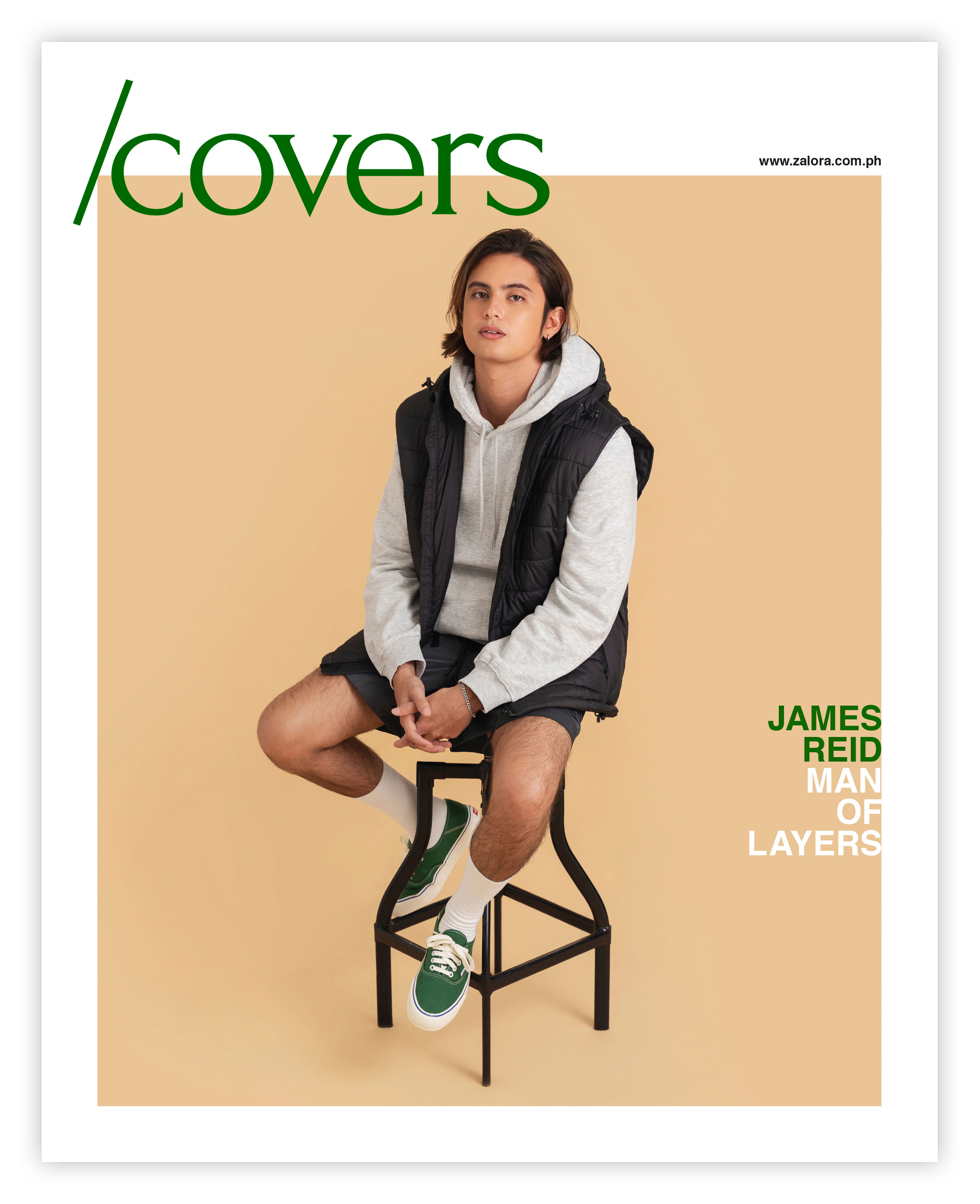 James Reid populates this space as one of his generation's most influential voices in the industry. Set on creating a new culture around local music, he lays out a fresh blueprint for the future of sound. While everyone is set on following, James leads in a league of his own. From spaces, to music, to style — he's taking reign in relevance today and shows us that there are endless layers to the 'James Reid' we think we've come to know.
James' style adapts to the times. Each stage of his life has met a different look, which are inspired by his current passions or whatever peaks his interest. "I have phases. When I was younger and doing a lot of acting, I really looked up to James Dean. I wore lots of leather jackets and boots." Fitting to this smooth biker-esque aesthetic, the musician admits that his most abused wardrobe piece is his pair of Doc Martens. When his music transitioned to RnB, James leaned towards dressing more street. Sporting this colorblock windbreaker from Lacoste, his natural suave comes to life effortlessly. However, life in lockdown pushed the artist to embrace a chiller aesthetic. "Right now, I'm all about what's comfortable. No one's really going out, and times are different. I think comfort is the most important thing people should consider in dressing today."
For the singer-songwriter, there is no separating style from sound. The two coexist in creating his artistry's DNA. As his music finds footing in a new blend of RnB and electric-funk, James' current aesthetic meets yet another revamp. "My style now is very Bohemian. It's a reflection of the songs I've been putting out lately." With recent releases like refreshing anthem Soda an funky synth Hello, the artist introduces a soulful — almost psychedelic — branding to his persona. When asked for his dream collaboration, he shared that he'd love to get in the studio with multi-instrumentalist FKJ. No surprise there, as James' music now traverses the lines between electro, synthpop, & soul.
"I'm just at a point in my life where I'm extremely happy. I feel very content with everything I have right now."
The musician's sudden burst of creative energy all emerged from a year spent in isolation. "I did a lot of introspection. Growing meant going inwards." James emerged from the quiet chaos of the quarantine with his best state of mind yet. "I'm just at a point in my life where I'm extremely happy. I feel very content with everything I have right now." Visually and sonically, his music captures that energy. It's quite apparent that the singer-songwriter came out of this reset with a better understanding of himself and the art he wishes to create. "We all came from such a crazy year. I just want to put out music that makes people feel good, you know?"
"When everything around you is sinking, there are two natural reactions: it's either you stand still or you sprint."
James also acts as frontman & brains behind progressive music label, Careless. "I didn't like people telling me that what I wanted to make was not marketable." Instead of conceding to commercial molds, he took it upon himself to dictate the direction of his own music. The vision for Careless was simple — to allow rising musicians free reign over their sound. "Careless is a place of progressives. We're looking to represent fresh faces and talents that hold promise in music." More often than not, the industry turns away from offbeat talents. Careless looks to change that. And James is right there, in the center of the movement.
The young artist has spent the lockdown plotting out big things with his team. Time may have stopped - but their goals remain unaltered. Somewhere in between putting out new music, binging Peaky Blinders, and getting cozy with his cat —James has managed to carve out time in expanding his businesses. "I've been opening up new restaurants with my team, which is definitely a risk but we make sure to follow all necessary guidelines." Some people may think it's crazy to start ventures in a time where the market is very unstable, and it might just be. But that's how James and his people operate—always going big and committing to it. "When everything around you is sinking, there are two natural reactions: it's either you stand still or you sprint." If not apparent already, James Reid is a sprinter. And he always has been.
A true chameleon, this artist's ever changing persona makes one thing clear - there is no limit to the layers that makeup James Reid. Always adapting, moving, and not afraid of the unknown — James lives by the rule that the next best thing is always ahead of us.
Photography by: Renzo Navarro
Creative Direction by: Eugene David
Grooming : Mac Igarta
Styling by: Loris Peña
Video by: Alivve
Written by: Jana Bocobo
Produced by: Bea Jocom