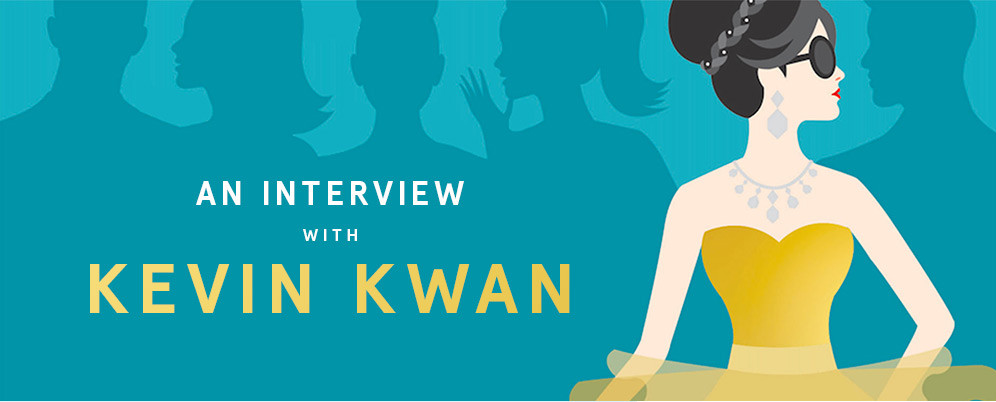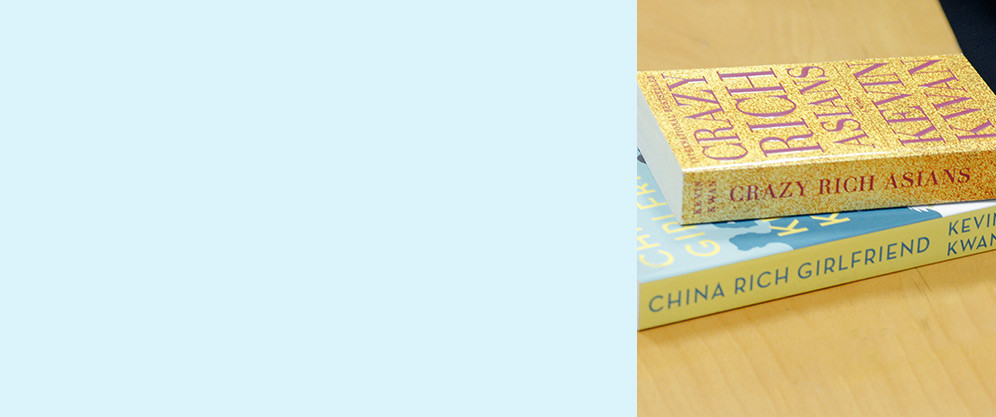 Interviewer: You were raised in Singapore, but since lived in the United States. How has your upbringing shaped your novels? And I hear that your novels are based on real life events and I noticed that you sneak in some cheeky references to famous Asian personalities such as Pan Bing Bing based on Fan Bing Bing.

Kevin Kwan: Well, that's your assumption.

Interviewer: Well, yeah, that's my assumption. And the other assumption, of course, would be Evangeline de Ayala, presumably from the Ayala family.

Kevin Kwan:Presumably.

Interviewer: All of which are just assumptions, of course.

Kevin Kwan: So you know, I grew up in Singapore for the first 11 years of my life and it was sort of in this crazy rich Asian world. But leaving it, I think was really what awakened me to the fact that this was kind of an unusual childhood. I moved to the United States when I was 11, I had various normal all-American teenage years and upbringing and so it was such a high relief to the world that I had been exposed to the part. So I would tell people stories about my childhood or whenever I would go back in Asia to visit and come back and tell my friends what would happen. They've always said, you know, over and over for many years, you've got to write this down. So I did, so it's you know, I think intrinsic to the books.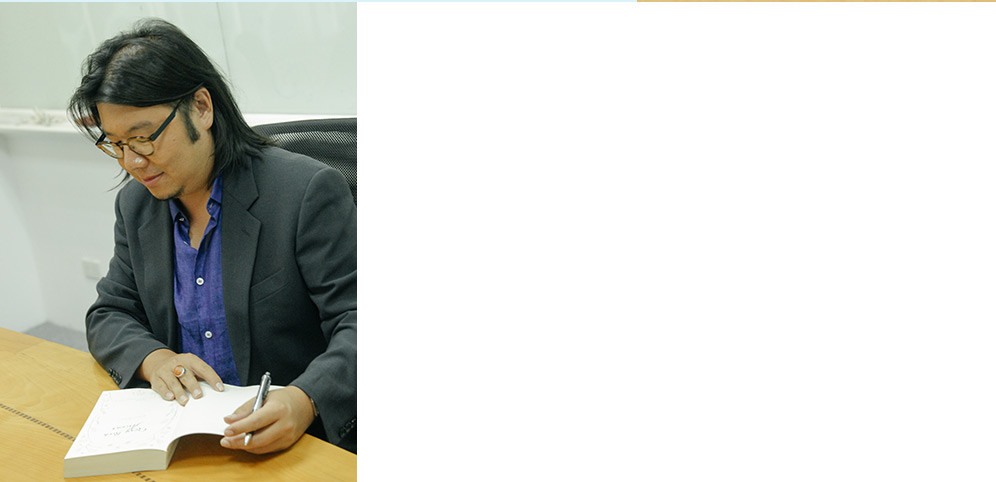 Interviewer: I see, so relating to the first question, your novels have definitely opened up a new range of stereotypes for Asians. So how do Western readers react when they find out that Asians are that "crazy," that they're that opulent, that they spend that much every day?

Kevin Kwan: I think that it's been a revelation for a lot of Westerners in North America and in Europe, you know. I think it was less about the crazy-rich part because that gets a lot of media play in the States. You know, there's always articles about look-at-this ridiculous person from China that bought you know twenty five Rolls Royce's or the most expensive dog in the world. What they didn't know was about the rich in Asia that have been rich for many, many generations—the old money – the overseas Chinese; in the Philippines, in Indonesia, in Singapore, in Hong Kong. That I think was more revelatory to them and the fact that these people are not showy in the way that the mainland Chinese, that get all the press, are.

Interviewer: How do Asians react to this portrayal of the Asians in the (book) novel?

Kevin Kwan: So far I've gotten really, really positive responses. You know, I was just in Hong Kong and it was quite thrilling to meet my fans, and all these people who are in high society who just love the book. So, I've seen very little disapproval but a lot chuckling and enjoyment. I think they're flattered that they're being portrayed in a book that's internationally distributed and is getting as much media play as it does. Rather than just the usual old stereotype stories, war-torn China or Asian immigrants having to struggle, this is a whole different narrative for them.

Interviewer: That's great. Also, since ZALORA is a fashion e-commerce website China Rich Girlfriend is more fashion-centered than the first with you dropping more designer names in the narrative. Is there a reason for that? Would you say that the China rich are more fashion obsessed than the Singaporeans?

Kevin Kwan: I think definitely now in China there is such an emphasis on brands and labels. But also, my editors and publisher were telling me that people really love it when I talk about brands. I would write whole passages and just describe something, but then my editor would come back and go, "Brand! Brand! Brand! We need the brands!" because readers apparently enjoy it. And I think it just speaks to how contemporary culture, both East and West, has become so centered on branding. You know, they want to feel like they are really having a shopping experience along with the people in the book.

Interviewer: How important do you think fashion is to Asians? Do you think they approach it differently from other cultures, say Westerners?

Kevin Kwan: You know I think that these days, in Mainland China especially, there is really an emphasis on looking good and dressing for success, so people of every background would try to put their best foot forward in terms of how they look. They feel like having their best outfit, getting cosmetic surgery for example -- appearance is paramount to getting a good job and climbing the corporate ladder, you know things like that. So I would say, brands and fashion has become sort of hyper-important to the culture.

Interviewer: Does fashion play a major role in your novels? I noticed you differentiated the Mainlanders from the Hong Kongers or the Singaporeans based on how they dressed and the labels that they wear. For example: The Hong Kong ladies wouldn't be so showy about what they wear, but Mainlanders are more about labels, labels, labels. So what can you say about that?

Kevin Kwan: I think it's just human nature, you know. When the money is newer, when you need to prove yourself and sort of show off your success, there's more of an emphasis on status symbols and having very obvious labels. You know, to present that you have succeeded and are rising in prosperity. That's very important for the Chinese. For the Hong Kongers and Singaporeans, they've been prosperous for many decades now; it's less important. In fact, their fashion has gotten much more subtle for them and they tend to dress more down versus up as opposed to the mainland Chinese, who are now really the driving force of luxury shopping in the world. I think 70% now, of luxury shopping, is being controlled by Chinese spending.

Interviewer: I'm sure you've been asked this question countless times, but which of the characters in your novels do you relate to the most?

Kevin Kwan: You know I think I relate to some of the minor characters more than the major characters 'cause you know, I'm not a crazy rich Asian, and I'm not sort of trying to save my marriage or any of that. There's this character called Alistair Cheng who is a filmmaker. As an artist, I relate to him quite a bit. So I would say that's the one I'm most tied to emotionally.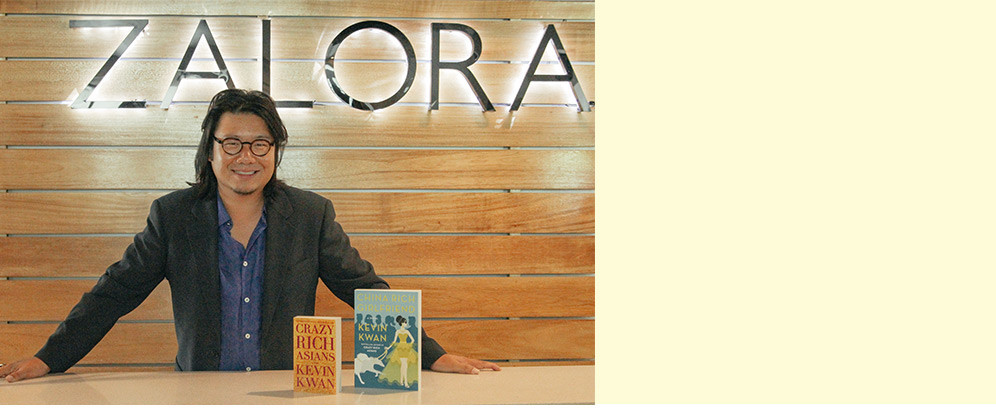 Interviewer: I'm sure a lot of your fans are curious about the progress of your film, Crazy Rich Asians.

Kevin Kwan: The script was written by Keith Bunin and Peter Chiarelli. They are two amazing, talented, and very well-known screenwriters. I'm thrilled, I'm thrilled because it's a fantastic script and we are now beginning to move into the casting phase. Now we're talking about who is going to be in the movie.

Interviewer: As a fan, I'm excited. Who's your dream cast for the film?

Kevin Kwan: I really don't have a dream cast, I'm really open to seeing who's going to be best for the role and that's going to happen in the auditions process. We're going to see the actors come in and try to read the script and see their performance.

Interviewer: Is it going to be produced here in Asia? >

Kevin Kwan: Yeah, it's going be shot here in Asia. It's really a joint Chinese and American co-production. So we're hoping to showcase, the best of the best, you know, the top actors in Singapore, Hong Kong, Mainland China, and the US, you know. That's the goal, anyway. Let's see if it happens.