1. When can I expect delivery of my order?



If you place your order before 6pm, it usually gets shipped from our warehouse on the same day. We hand it over to one of our logistics partners (Provincial) or our ZALORA Express Delivery Fleet (Metro Manila) and you will get a shipping confirmation email indicating the estimated delivery day. For Metro Manila most orders are delivered on the next day, but latest after 3 days. You can expect delivery of your order within 3-5 days in provincial towns or after 5-7 days if you live in a rural area. Please, be advised that there are no deliveries on Sundays.
2. What if I am not at home to receive my order?
If you are not at home when we deliver and there is someone else to receive the order, please make a note in the "Delivery Instructions" field on the Checkout page when you place your order or send a quick email to our Customer Service Team (here). Please also leave a letter of authorization stating the name of the recipient. We will require you or the authorized person to present a valid ID upon delivery to make sure that no one else can take your shipment.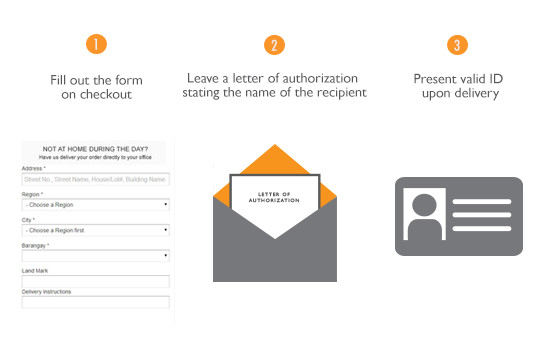 If we cannot reach you at the indicated shipping address, our customer service team will contact you by Email and text message and we will try to deliver again on the next day. If we cannot reach you on the second delivery attempt, your shipment is on hold and our customer service will contact you to schedule a new delivery attempt. Please note that our logistics provider will return shipments to ZALORA after three unsuccessful delivery attempts.
3. Can you deliver to my office address?
Yes, of course! Your parcel can be delivered to an office address. Please enter the address along with your full name upon checkout.
If you would like the package to be dropped off at the office reception, please leave us a note in the "Delivery Instructions" field of the checkout page and leave a letter of authorization with the recipient.
4. Do you charge any shipping cost?
Free shipping may be enjoyed in conjunction with a voucher code, automatic discount or store credit in your Wallet.

For voucher codes and automatic discounts, the qualifying amount is the total amount of the products purchased after the voucher code or discount is applied
For store credit in MyWallet, the qualifying amount is the total amount of products purchased before the store credit is applied
5. Will I have to pay shipping fees when I use a voucher or store credit?
If you use store credit from My Wallet to pay for your order and the amount of your order does not exceed your store credit, we don't apply any shipping fee.
6. Do you charge shipping fees for returns?
Returns are always free – drop your return shipment at any LBC or 2Go Branch and indicate the ZALORA Account number (see return sheet) and the cost of the shipping is on us. Keep in mind that the shipping fee for your initial order will only be refunded if you return all items of your order.
7. How can I track the status of my order?
You can check the status of your order here by entering your order number in our shipment tracker.
8. How do I change my address or cancel my order?
If you've just finished placing your order, please call us and we'll try to modify your order. If more than two hours have passed, chances are good that our magical warehouse elves have already packed and shipped your order! In either case, please call us for further assistance as soon as possible at (02) 8 858 0777.
If for some reason you wish to cancel your order, please contact our customer service agents at (02) 8 858 0777 or drop us an email at 
customer@ph.zalora.com
.
9. Who will deliver my order?
ZALORA Express Delivery Fleet
For Metro Manila, most orders are delivered by our ZALORA Express Delivery Fleet. Our fast & friendly riders will deliver your order on the next business day and are happy to wait for up to 15 minutes while you check out your items and try them on if you wish. If you do not like any item you ordered, you can return it to our rider straight away.
Please note that for COD transactions you will have to pay the order first before you can try it on. Our rider will wait for you and refund you for any item that you wish to return straight at the door.
For prepaid orders, the riders will ask you to present a valid ID before handing over your package.
Logistics Partners
Provincial orders are delivered by our external logistics partners. We work with Air21, 2Go and LBC to offer you fast nationwide delivery and wide COD coverage. You will be informed which logistics provider delivers your order in the shipping confirmation Email.
10. Can I try on my order before you deliver?
ZALORA Delivery Fleet offers our Try-on Service at the door. Our rider will be happy to wait for up to 15 minutes to let you check and try-on your purchase. If you are not satisfied with any item, you can return it straight at the door and we will issue a refund. Please note that for COD transactions you will have to pay for the order before try-on, our rider will then refund you for any item you wish to return after try-on.
For our external logistics partner, a try-on service and partial acceptance of your order is not possible. You have to receive (and pay in case of COD) for the entire shipment at the door. However, you can always return any item you do not like within 30 days of delivery. Simply put the unworn item back into the box and make sure to include all labels. Fill in the return slip, included it in the package, and drop the package at any Air21, LBC, or 2Go branch nationwide or contact our customer service team to schedule a return pickup.
11. How do I know that my order is safe during shipping?
Your order is always safe with the ZALORA Guarantee. All our shipments are insured and you will be refunded if ever a shipment gets lost on the way to you. When you receive your order, please check that the ZALORA Guarantee seal is intact. If you receive a shipment with a broken seal, please reject the shipment and contact our customer service. We will arrange for a re-delivery of your order immediately.